New to Label Printing?
When you're new to labeling, it can certainly be challenging to understand where to get started. We at Creative Labels are here to help you with our years of experience!

First, you'll need to determine the size of your label to fit your container or package. There are some guidelines you need to follow to ensure proper labeling can be applied to your container. You will need to keep the edges of the labels at least 1/8-1/4" away from edges, and or surfaces where they begin to curve. This will allow easier application whether it be by hand, or automatic application. This will also eliminate any flagging due to a small portion of the label being applied on a curved surface.

Please know at any point, you're more than welcome to submit your container to Creative Labels, and we can do the measuring for you at no cost!

Second, you'll need to submit a design in which you want the labels to look like. This often, can be the most challenging part of starting with labels. There are industry standards in which the artwork needs to be submitted to work with our in-house graphic designers and their software. We have one of the finest Graphic Departments in the country who will be able to help assist you in understanding how to submit your art. You may submit your art via email in a high-res PDF, or if the files are large, we have a FTP Site in which you can upload your art files to. Please contact our Graphics Department for access and password information. Once you upload your art, we will pre-flight your art and make sure it's ready to go, or will help you in getting everything we need. We have just invested into the newest technology software to help minimize your need in manipulating the files.

Once we have the size, we can discuss the application as to how it's being used, and can help assist in determining which material and adhesive to use for your needs. We have over 30 years of experience with adhesives and face sheets to help make your labels perform flawlessly!

At this time, all we'll need is how many you are looking for. Once we have the quantities, we can help you decide which printing method is best, and can work up pricing for you for how much everything will cost. We actually have a "Quotation" link on our website for you. If you have any questions, please contact us and we can provide any assistance you will need to get your pricing.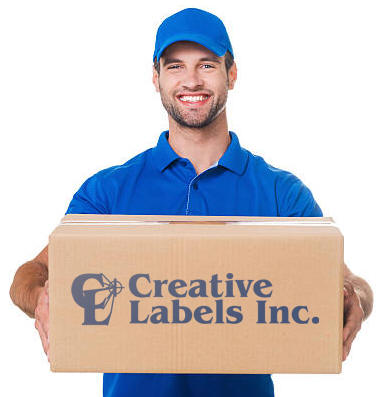 Once you place your order, our Graphics Department will provide you with a high-quality PDF proof, or Epson proof should you need to validate the color you are looking for should we be printing four color process.

This step is very important as it's the last check prior to printing your labels. Please be sure and check the content, color break downs and any information critical to your labels. Once the proof is approved, we will either run the job digitally, or make plates and run them on our high quality flexo presses.

The average lead time for labels is typically 1-2 weeks or sooner if we can. We understand that labels are usually the last item needed and we have come custom to turning our jobs very quickly to meet your demands! We have been considered by many of our Customers as the Jiffy Print of labels!

So, there is a quick description of getting started with your labeling needs. Should you have any questions, or need any additional information, please feel free to Contact Us! We love to establish working relationships with our Customers which last for a long time if we do our job right!